Error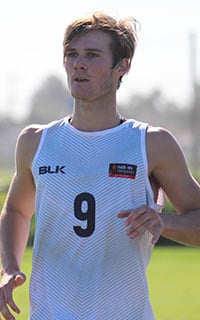 JONTY Scharenberg walked out of his English exam, opened up his Twitter feed on his phone and was shocked by what he read.
It was late November and his older brother Matt had torn his anterior cruciate ligament and would need a knee reconstruction, his second in two years on Collingwood's list.
"I couldn't believe it," Jonty told AFL.com.au. "Mum didn't want to tell me before I went into the exam which is fair enough, but I was just shattered for him. I sent him a text straight away but I just couldn't believe it.
"Seeing the hard work he's gone through and for it to happen again is pretty frustrating for him, but I'm sure he'll be able to bounce back."
Scharenberg, 17, hopes to join his older brother at the top level via this year's NAB AFL Draft, having impressed last season for South Australia's under-18 team and even breaking into Glenelg's senior SANFL side.
This week he is training in America with the NAB AFL Academy on their high performance camp in Florida – a trip designed to reflect an AFL club environment – but he already has a strong insight into what can come with being a professional athlete.
Full the full article, please CLICK HERE
Members are advised that the Annual General Meeting originally advised as being Wednesday 10 February shall now be held on Wednesday 17 February at 7.30pm. We have experienced a slight delay in preparing the annual report due to finalising the audit. We apologise for any inconvenience and look forward your attendance.
New Date
Wednesday 17 February, 2016
Time: 7:30pm
AGM of the Glenelg Footballers Club Inc immediately followed by the AGM of the Glenelg Football Club Inc
The Glenelg Football Club Bendigo Bank SE Academies will resume again next week. The groups coached by Matt Scanlon (Mt Gambier), Andrew Nitschke (Millicent), Tony Atkins (Naracoorte), and Kane Cuthbertson (Bordertown) completed 7 sessions before Xmas and will do another 5 sessions before they play matches against each other at Naracoorte on Sunday March 6th.
After these matches a squad of 25 Under 16's will be chosen to play the Metro Under 16 team at Kingston on Saturday March 19th. There will also be an Under 18 trial played at Kingston amongst lads from the SE who are turning 17 or 18 this year. These matches will showcase the players that will be considered for selection in Glenelg teams in 2016.
Photo is from last year's Academy matches